"Ever wondered how I got these hands? Well it's all in my diary over there."
More information about this can be found at WipEout Wiki. By clicking this link, you will leave the Gallowmere Wiki.
The Medievil is a ship featured in WipEout Pure. It serves as homage to MediEvil: Resurrection.
To unlock it, the player must collect 70 unique Gold Medals.
Description
Proof that AG racing is rising from its grave, is when the undead themselves want a piece of the action. It's time to get Medievil.
Overview
With supreme thrust, this craft is very quick out of the corners and capable of jumping off the marks. Coupled with a good top speed and great turning, it is the one that will excel in literally every area. Nevertheless, it is still plagued with the problem of having bad shields.
Gallery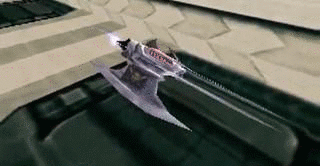 External links
Ad blocker interference detected!
Wikia is a free-to-use site that makes money from advertising. We have a modified experience for viewers using ad blockers

Wikia is not accessible if you've made further modifications. Remove the custom ad blocker rule(s) and the page will load as expected.