A cameo is the appearance or mention of a character, place, or item from one game, TV show, or movie in another.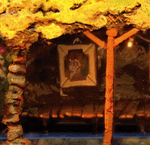 An image of Zarok can be found in Albia.
Sir Dan
appears as an unlockable guest character. The player can unlock him by beating him in versus mode.
A model of dan-hand can be seen during the game's intro. A likeness of Dan's tomb can be found in the village graveyard in Aetha.
A character called Colonel Freddie Fortesque appears in the game. He is believed to be a descendant of and tribute to Sir Dan. Freddy is also missing his left eye.
A ship called Medievil can be unlocked in the game upon acquiring 70 unique Gold medals.
Sir Daniel
appears as a playable character in the game. 
Princess Kiya
 and
Zarok
also appear as unlockable
minions
.
The Graveyard
appears as a stage in the game.
External links
Ad blocker interference detected!
Wikia is a free-to-use site that makes money from advertising. We have a modified experience for viewers using ad blockers

Wikia is not accessible if you've made further modifications. Remove the custom ad blocker rule(s) and the page will load as expected.